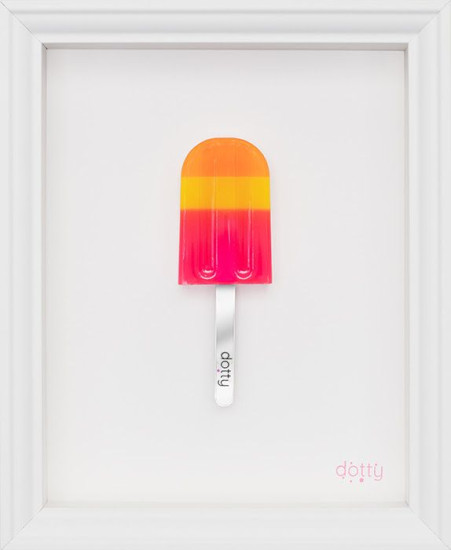 November sees the release of more 'Ice Ice Ice' baby designs, with larger & multiple lollies in the new five and fifteen design installations, see the complete: 'Dotty - Choose You Flavour - Collection.'
Firstly, these are 'real' replica resin lollies individually created by artist Dotty & then framed, these are not paintings and no licking allowed!
Each lolly is made by hand, unique & bespoke, and therefore the finished colours are completely random on each installation framed artwork.
So what differentiates these seven initial releases? Well you get to choose from seven neon coloured frame inlays within the white frames and there are of course the following colours:
White, Red, Yellow, Pink, Green, Orange & Blue...nearly all the colours of the rainbow!
Incidentally each lolly is placed on a contemporary 'mirrored' stick for an extra modern feel - after initially experimenting with tradition wooden sticks, the artist preferred the reflective finish of metal.
A nice little touch is that each lolly is lasered with her name 'Dotty' on each metal stick.
Format
Framed
Edition Copies:
1
Release Year
2023
Edition Type
Original
Category
Originals
Stock Status

In Stock

New Release

Dimensions
9.50 x 11.50

Inches
Interest Free Credit
0% Interest Free Credit 6-12 months, Call or Email us to apply instantly. more details